The best way is to anticipate change…
We live in a world where few things ever stay the same. That's why knowing the rules of the financial games you play must be followed by the idea that the rules of those games are alw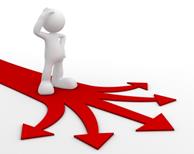 ays changing.
When the world changes, the rules change and these alterations introduce certain risk into your life. Change brings uncertainty. When something changes, it can take a while to adapt to its new form and function and requires a bit of time to distinguish how the modification will affect a situation.
Change forces you to take risks during that period of adjustment between the known, comfortable past and the new, uncertain future.
Regardless of how hard you try to avoid it, change will occur and that change will bring risk with it. It is your job therefore, to determine the degree of risk that is acceptable for you to take by keeping up with the way the changes to the rules of the financial games you are playing will affect your security going forward.