Do you struggle with knowing how to deal with the giant avalanche of paper that seems to pile up in your life each year?
How do you know what to keep and for how long?
Tax documents are usually the only thing that you may want to keep for long periods of time. But even the IRS is limited to a 7-year back period in audit investigations.
Answering the following questions about any document you are considering will help you clarify its value and importance to determine how to sort and organize your important paperwork and documents.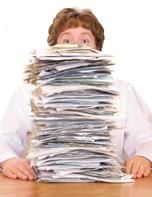 Why am I keeping this document?
What would be the worst thing that could happen if I did not have this document and needed it?
If I throw it away, can I get a copy of this document from someone else who may be keeping record?
Do I need this document to prove anything to myself and/or others and if so, what?
Is this a tax document younger than 7 years? (If you can answer no to this question, then feel free to send the document to the shredder.)
Will I need this document in an audit to prove my innocence? (If you can answer no, then feel free to shred.)
Have I used this document in the last 10 years? (If the answer is no, shred!)
Does anyone I know and care about need the information in this document? (If the answer is no, feel free to shred.)