Perhaps you feel like you're drowning in debt right now or can't get your spending under control, so a discussion on the importance of financial organization may not seem very relevant to you. But no matter your financial state, whether on top of things and looking for ways to generate more cash flow, or struggling to pay the bills, financial organization is for everyone.
Financial organization is essential to ordering and controlling some of the complex issues that surround finances. It is also vital if additional wealth is going to be created and most importantly, retained.
I have found over several years of coaching that most people have a financial junk drawer, sort of like this one: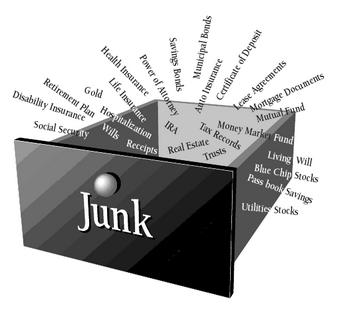 If you were to examine your own financial junk drawer what would it look like? Perhaps it would resemble this picture where a mishmash of important financial and legal documents have been tossed. Financial success demands that you adopt an organizational system that will help you get rid of this junk drawer and arrange and order your financial life. Once a system is in place, disorganization and procrastination will diminish, making it much easier for you to get out of debt, start saving for the future, and even create more wealth.
Organization will help you sort out complex emotional thoughts and feelings related to money.
Organization will help you make good spending decisions.Organization will help you make good investment choices.
Organization will help you get out of debt – quickly!
Organization creates additional wealth because it helps you make the most out of the hard-earned assets you create through good long-term planning.
One of the most important ways to get organized financially is to look at how your money and assets are taxed and to get your estate in order so that it can be settled easily upon your death.
To get properly organized, you should work on each of the following three areas:
Personal Organization: This kind of organization is where you get your household and personal and family life in order; important documents and paperwork are filed so that you can find them quickly and so that if you die, your family doesn't have a nightmare ahead of them in settling things.
Estate Organization: This is where you determine your personal net worth by completing asset schedules for property, real estate, bank accounts, and so forth. When you know how much you are (or are not) worth, you will be motivated to get out of debt so that you can be worth something or to learn how to vigorously protect your wealth from taxes, bad decisions, and market downturns.
Estate Settlement: This kind of organization makes it easy for your family to distribute money, property, and special family heirlooms to those you want them to go to. Getting organized here also gives you the opportunity to write down your life history and express feelings to loved ones, and to let family know how you want your funeral and final arrangements to go.
If you are thinking about getting better organized financially, contact me for more ideas: alan@moneymastery.com, 801-292-1099.