I have found over the years that most of the heartache people experience over finances stems from a lack of knowledge about the complex financial games they play.
I'll try to illustrate this using a picture of a die. Notice the f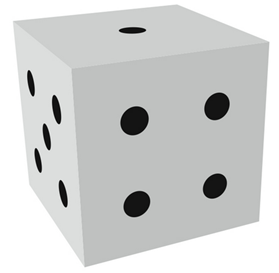 our dots on the front side of the die. How many dots are on the opposite side of the four dots? If you're familiar with dice, you probably know. The answer is three. What is on the opposite side of one? The answer is six. The rule with dice is that opposite sides of a die always add up to seven. When you know the rules, it is really easy to predict what will be on the other side of the die.
Another example of knowing the rules can be found in the game of tic-tac-toe. If you have played it before, you can pretty much predict who will win within the first few plays of the game. If both parties know how to play tic-tac-toe, usually there won't even be a winner; the end result is a tie. When you learn the rules of the financial games you play, even if you can't always win, you can at least have an equal advantage with the lenders, vendors, and institutions with which you are playing the game.
When you know the rules of the game you have a much higher chance of winning or at least playing even.  To learn the rules I suggest learning more about yourself by considering the following:
1. How much risk are you willing to take and how much risk have you taken on with the current financial contracts you have, including your mortgage and credit cards. If you don't know how much risk you are taking by being engaged in these things, now is the time to find out.
2. How willing are you to do "first things first"? Some people want to run out and invest in the stock market before they even have a stable profession; some want to buy a house before they have even invested in a good education. Taking on debt before you are ready to do it, or jumping on the investor bandwagon makes no sense.  Determine to do first things first before getting wrapped up in more sophisticated financial games.
3. Select books to read from the following list that will help you better understand the rules of the games you are playing.
1.   MONEY:  What Financial "Experts" Will Never Tell You by Alan M. Williams, Peter R. Jeppson, & Sanford C. Botkin.
2.   The Richest Man in Babylon  by George Clason
3.   Think and Grow Rich  by Napoleon Hill
4.   The E Myth Revisited by Michael Gerber
5.   Lower Your Taxes Big Time by Sanford C. Botkin
6.   The Millionaire Next Door by Thomas Stanley & William Danko
7.   Prophesy by Robert Kiyosaki
8.   Millionaire Mindset by Gerry Robert
9.   One Minute Millionaire by Mark Victor Hansen & Robert Allen
10. Die Broke by Stephen M. Polan & Mark Levine
11. Your Money or Your Life by Joe Dominquez & Vicki Robin
12. The Wealthy Barber  by David Chilton