There is a law that all the great money makers are well aware of, it's called the law of "giving back" and is an important one in your efforts to get in control of your finances. This law, which is lived by all the great financial gurus and by those who have learned how to manage their money successfully, teaches that you attract, rather than repel money the more generous you are with it. Being willing to give money to a church, charity, to those in need, or to any cause you deem worthy, even when you feel least able to do so,
will automatically attract more money to you
. 
Giving money back to others causes money to naturally flow toward you.
When you live this law (also known in religious circles as the law of tithing), coupling it with a realistic definition of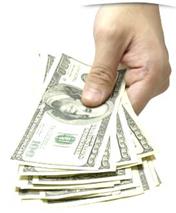 your own needs and desires, and learn how to meet those needs appropriately, you can then create surplus to help others. That surplus is the absolute emotional thrill — ultimately more meaningful than the brief excitement that comes from impulse spending, and certainly more joyful than terrible feelings of fear and guilt that come from spending more than you have.
When was the last time you "gave back?" What financial stability might you bring into your life by embracing this time-proven and ancient principle? It just might be worth a shot this week. Think about it…