In my last post, I tried to explain why starting a small home-based business venture is one of the keys to mastering your money, and one of the ways you can bring real benefits into your life, including making more money and paying less taxes. I hope you are seriously considering starting one.
Sometimes I find my clients who are excited about the prospect confused about what it really means to "be in business. This stems mostly from not knowing what a business really is.
There are three distinct parts to every business venture. 
Understanding each and differentiating them from each other is vital to the success of a business:
1. You. 
You are the controlling entity that owns the business. But remember a business is not you and you are not the business
. You own and control the business entity but
you are not the business itself. Differentiating yourself from the legal business entity is crucial.
2. Business Entity. 
This is the legal structure of the business. For example, your business may be formed as a Sole Proprietorship, an LLC, a partnership, or a corporation. The business has a name, and has license from local controlling authorities to operate as a business entity for the purpose of bringing in various income sources.
3. Income Sources.
 Your business entity needs to bring in money to survive. It could have just one income source or a variety of sources, it doesn't matter.
What's important is that the income sources themselves not be considered the business itself.
For example, 
you 
own a 
business entity 
called "Getting Ahead Enterprises, LLC" that operates as a Limited Liability Company (LLC). This LLC's income source for now is property management, which you do part-time on Saturdays when you're not working your W-2 job. You own the LLC and the 
income source 
is your part-time property management activities. Later you may add additional income sources to the business, such as trading in foreign currency, rental properties, or providing consulting services.
I created this little graphic to further illustrate the point: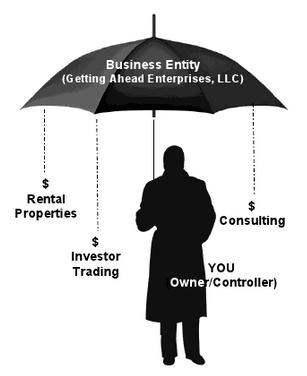 By separating yourself from the business and properly structuring it as some type of legal entity, you will be able to more clearly define what kind of income sources you will participate in to help your business survive without seeing those income streams as a definition of who you are. Remember, the business is a separate legal entity by definition of tax and business laws and must be treated as such.
Contact me if you need more information about this concept: alan@moneymastery.com.